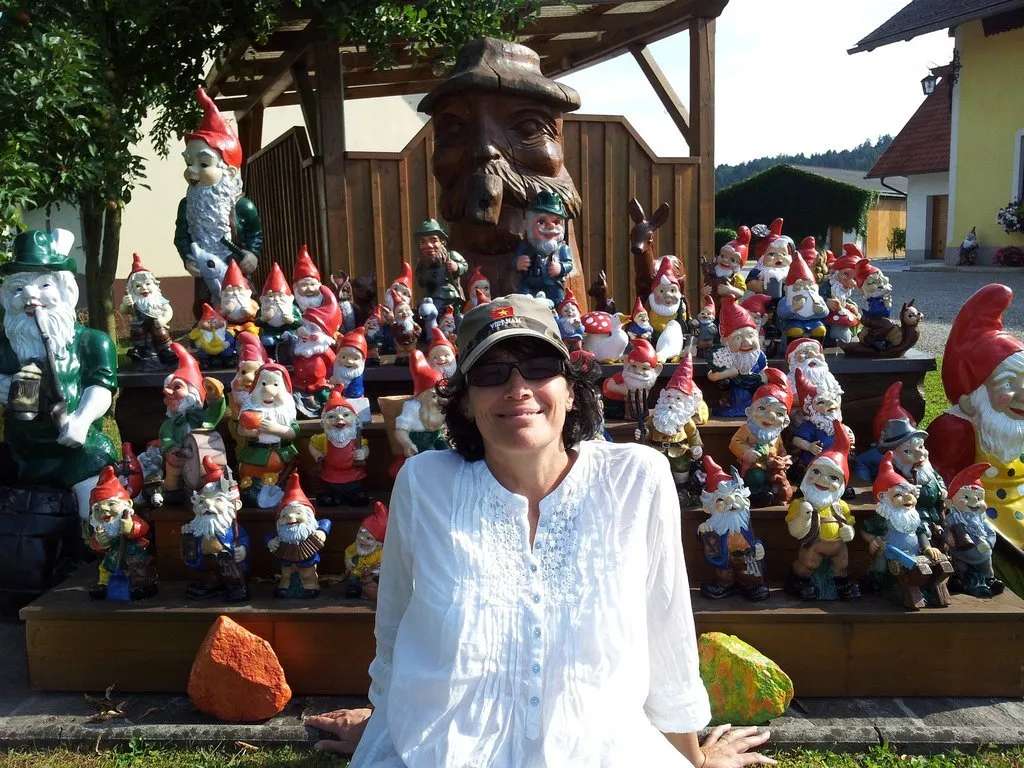 A series that asks travel and food writers about their media consumption and how they structure their writing days, find sources, and deal with information overflow. Inspired by The Atlantic Wire, but with a travel, food, and culture focus.
I've had the pleasure of knowing Pam Mandel, the writer behind Nerd's Eye View , for a few years—first via Twitter and TBEX, then as a colleague at Gadling. Though I'm sure it's not the case, her writing seems effortless and her observations spot-on. (Read Seven, for which she won a 2012 Solas Best Travel Writing Award, or Once, I Traveled Alone to see what I mean.) In short, I'm a big fan. So, I'm very happy to have her contribute to this series. More about Pam: she's written for Lonely Planet, Conde Nast Traveler Online, Afar, Skye, World Hum, The San Francisco Chronicle and more. She also plays classic rock on ukulele with The Castaways, Seattle's loudest ukulele band.
How do you start your day? What's the first thing you read and/or listen to?
My day doesn't really start until I hear the noise of my espresso machine. Then I look at my email, The Facebook and The Twitter, probably in that order. I use those social channels not just for consumption, but to communicate, and sometimes, there are things in there I need to respond to. If I'm feeling lazy I take my coffee back to bed I listen to my local NPR station, KUOW, if I'm reading something good, I might do some morning reading—I just finished David Rakoff's Half Empty and I read a lot of it first thing in the morning.
What is your typical work day?
I don't have a full time job in the traditional sense—I'm a contract technical writer/user experience designer/freelance whaddaya got, which means that sometimes I'm working full-time and other times I'm sitting on the couch surfing the web. When I'm on a project, I start my day the same way, with coffee and digital stuff,  but I get up, get dressed (if I'm going to meetings) and do all my social media time-churning on the bus. That's perfect, I think, it's a finite amount of time before I switch to "I'm getting paid" mode, when I'm at home, I can dawdle some. A lot. Too much.
What are your favorite sources for news and inspiration?
I really like Chuck Wendig's ass kickings for writers (like this, this, and this). I've been enjoying Neko Case's Twitter feed tremendously. I had a terrible Commander Hadfield Twitter addiction, which is a bit more controlled now that he's back on Earth. If I'm in the car, I might listen to KUOW but I also listen to a weird selection of podcasts. I really like Neil deGrasse Tyson's Star Talk Radio, I worship RadioLab, I think Roman Mars' 99% Invisible is amazing. I've been reading the Guardian's take on U.S. politics more and more, and I like Slate. Ira Glass—This American Life—is like a god to me—no, really—but I save This American Life episodes for when I'm flying and binge listen on airplanes. I click on almost every single thing posted to Twitter on the VelaMag feed. I like the Simpsons and The Jack Benny Show on podcast. Yeah, that one, from the 40s and 50s that maybe your grandparents used to listen to.
What's your relationship with social media? Do you use one service more than the other? Do you find it useful to your daily routine?
I have an unhealthy addiction to social media.I don't know how to quantify its usefulness in my daily routine because I don't have a routine day, hardly ever, But yeah, it's useful and I have one story after another about how social media has connected me with someone I needed to know to make something happen.
What's the last thing you read that stuck with you?
David Rakoff's essay in Half Empty about the complicated relationship between—wait for it—Jews and pork. Man, that's an amazing bit of writing. I find I am still thinking about George Saunders' essay "My Flamboyant Grandson (from the collection In Persuasion Nation)," too, for its sci-fi dystopian view of a world over run by advertisers.
Is there any particular music that you like to listen to while you write (or in advance of writing, for inspiration's sake)?
I can't listen to music and write at the same time. And music doesn't feed that part of my process, most times. I listen to a lot of classic rock (there, I admitted it!) for reasons that have nothing to do with writing.
What are your favorite sources for preparing for a trip?
My first line of research is with people I know who have been to where I'm going. Then I look for literary works in the e-books collection of my public library. I got The Tree Where Man Was Born (Peter Mattheissen) on audio prior to traveling to Tanzania and I felt like by "reading" this book prior to and while I was traveling, Mattheissen was teaching me to write about Africa.  There's a Traveler's Tales nonfiction essay collection about Hawaii that I just loved. My trip prep is way more historical/literary research than how to—I read John Muir before going to Alaska, for example, and about Theodore Roosevelt while traveling in North Dakota. I read Shackleton before I went to Antarctica. Practical information is common sense, mostly, and readily available, and I've been traveling long enough to know what to pack and that angry reviews on TripAdvisor are often more about the traveler who wrote them than the location itself. But history.. I like the context that reading history or personal essay about places can provide. And the library, that's always first.
You live in Seattle. What are your favorite sources for info about what's happening in Seattle, from news to concerts, etc.? Are there any articles about Seattle/Washington State/the PNW that you would recommend to visitors?
I get Seattle Mag in the mail and I like reading it — I learn things about my city and it's typically a pretty good read. Our regional AAA mag is pretty good too, and I've met a lot of the contributors so I trust what they print. I still turn to our weeklies—The Stranger and The Seattle Weekly—for what's going on around town, especially for event calendars.
I've written two pieces that have held their sentiment (for me) over time about the PNW, this one for Gadling called In Winter, Seattle is Mine Again and one for World Hum called On Coastal Time. (MA: These are great reads.)
Anything else you'd like to add — anecdotes, tips for finding news sources, writing advice, etc.?
It's dangerous, especially in social media and in the world of digital, to confuse quality and financial/popular success. In the digital space for travel, it is easy to be distracted things like, "oh, look this person got a book deal" and "this person got a swell sponsored content deal," and "this person got fully funded travels to some amazing destination." But that's about what they have, not what they're writing. It's a trap—not just for new writers, I get tangled in it, too—to mistake deals for excellent work. Pay attention to work that inspires you, don't lust after others' perceived success. Or go ahead and lust, but be aware of what you're doing. Right now, I'm more focused on making music with my ukulele band than anything else, but doing this has taught me—or reminded me—that this is true for writing. Surround yourself with people who are better than you. Having people admire your work is an honor, it really is. But fans don't make you better. The study of work that's better than yours makes you better.
Focus on good work, always on good work. Everything else is noise. I say that like I know how to do it. I don't.