Sri Lanka's Best Hotels: My Favorite Places to Stay and Play
I spent three years in Sri Lanka and the best part of that experience was traveling. Sri Lanka has some beautiful hotels, from beachside bungalows in the Southern Province to eco-lodges in the interior and colonial-era inns in the tea country.
Here are some of my favorite places to stay in Sri Lanka, plus a few that I didn't get to because of the pandemic. Note that they aren't in any particular order or ranking.
Galle Face Hotel, Colombo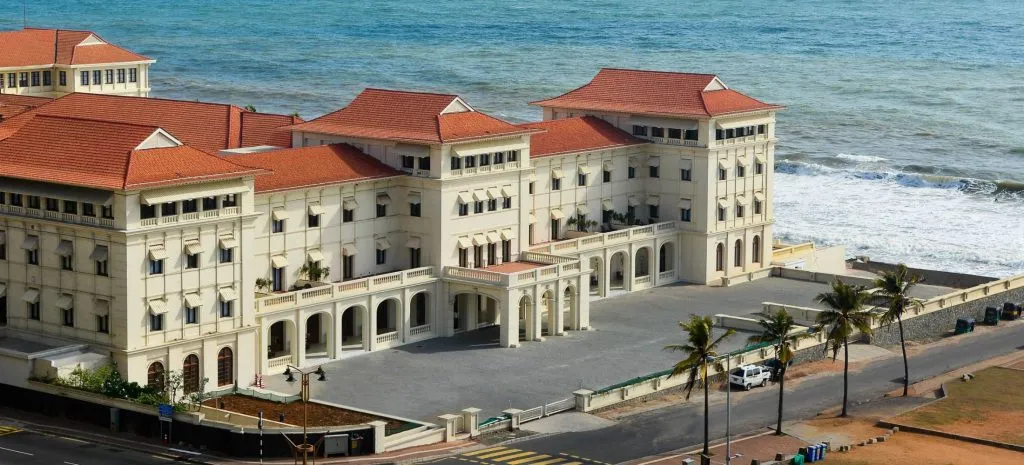 By far Sri Lanka's most famous hotel, the Galle Face Hotel sits prominently on the Galle Face Green in Colombo. Built in 1864, the Galle Face has welcomed many celebrities and dignitaries over the years, many of whom have house cocktails named after them. You can order a "Roger Moore" or "Carrie Fisher" or just a big mug of Lion beer at the breezy outdoor terrace that overlooks the Indian Ocean. It's also the best place for a sundowner. Get there in time to watch the evening flag lowering ritual, which is accompanied by bagpipers.
Taj Bentota Resort & Spa, Southern Province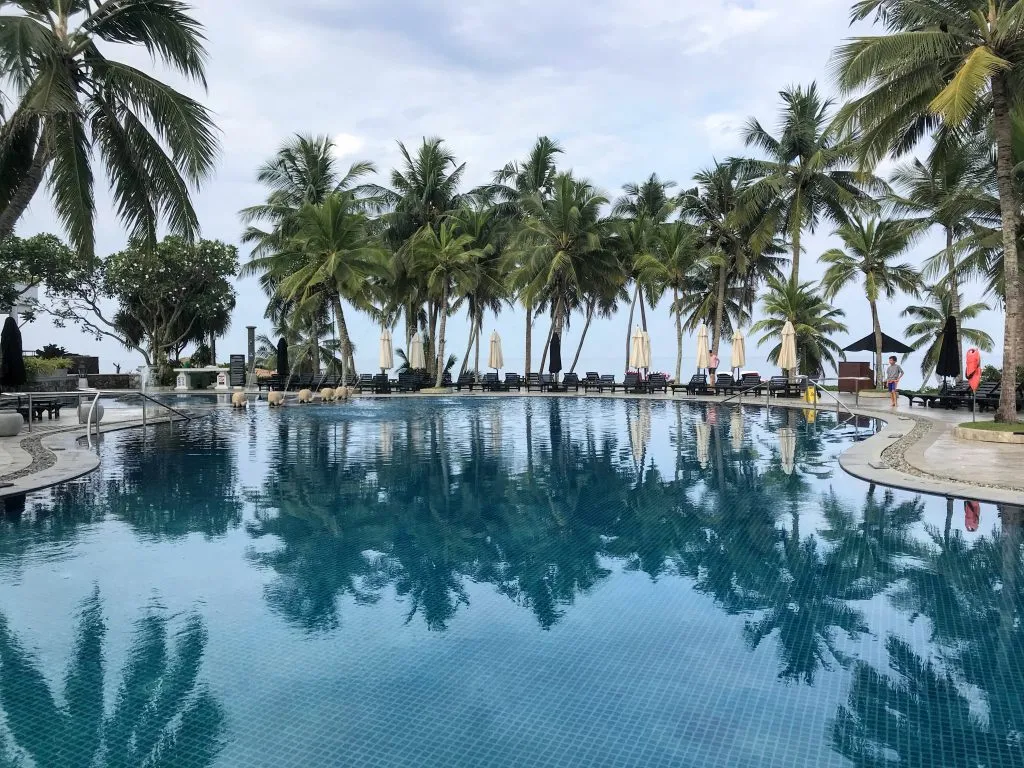 Indian hotel brand Taj has several hotels in Sri Lanka. This one in Bentota is a favorite weekend escape for Colombo couples and families looking for an all-inclusive, luxury hotel experience by the beach. The Taj has a few nice restaurants on the premises, a decent breakfast and dinner buffet, and a pub with a couple of billiard tables. The swimming pool at the Taj is large, with lots of sunbeds all around. But we enjoyed going down to the beach for warm water and gentle waves. The beach is public, so there are usually some nice, enterprising locals there who will rent you a sunbed or boogie board for cheap.
Eliyanth Udawalawe, Udawalawe National Park, Sabaragamuwa and Uva Provinces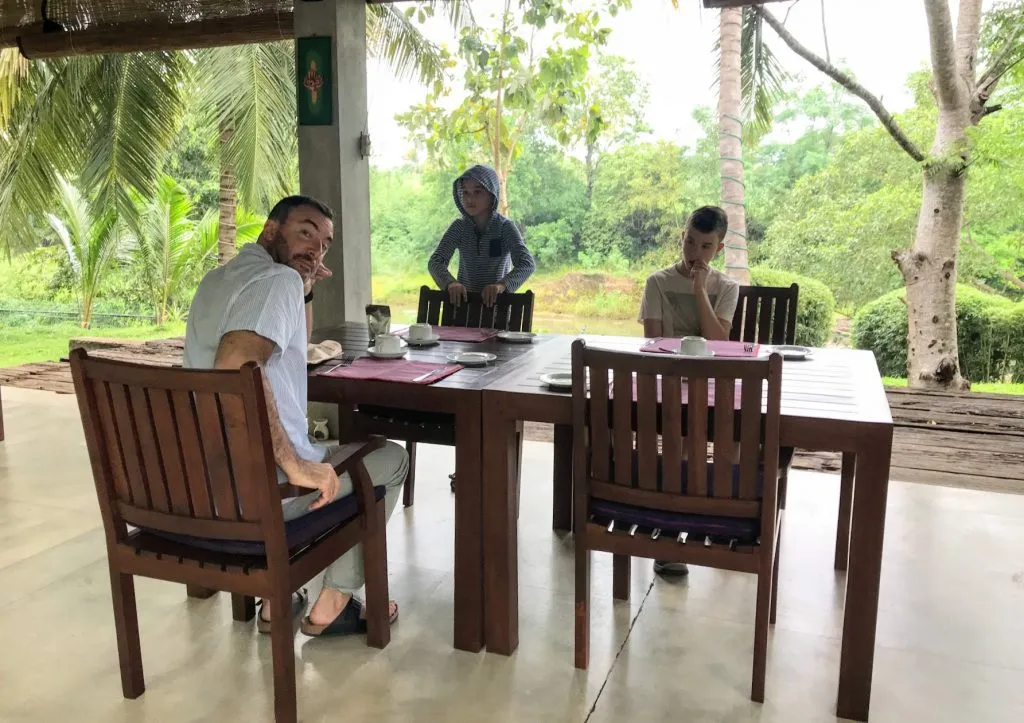 This is a small boutique hotel where you can rest between wildlife watching excursions to Udawalawe National Park (which they can help you book). Lovely pool and good food, which you can enjoy while admiring your jungle surroundings. Another popular option in this exact area is Kalu's Hideaway, owned by retired Sri Lankan cricketer Romesh Kaluwitharana. We had a yummy dinner there one night.
Dots Bay House, Hiriketiya Beach, Southern Province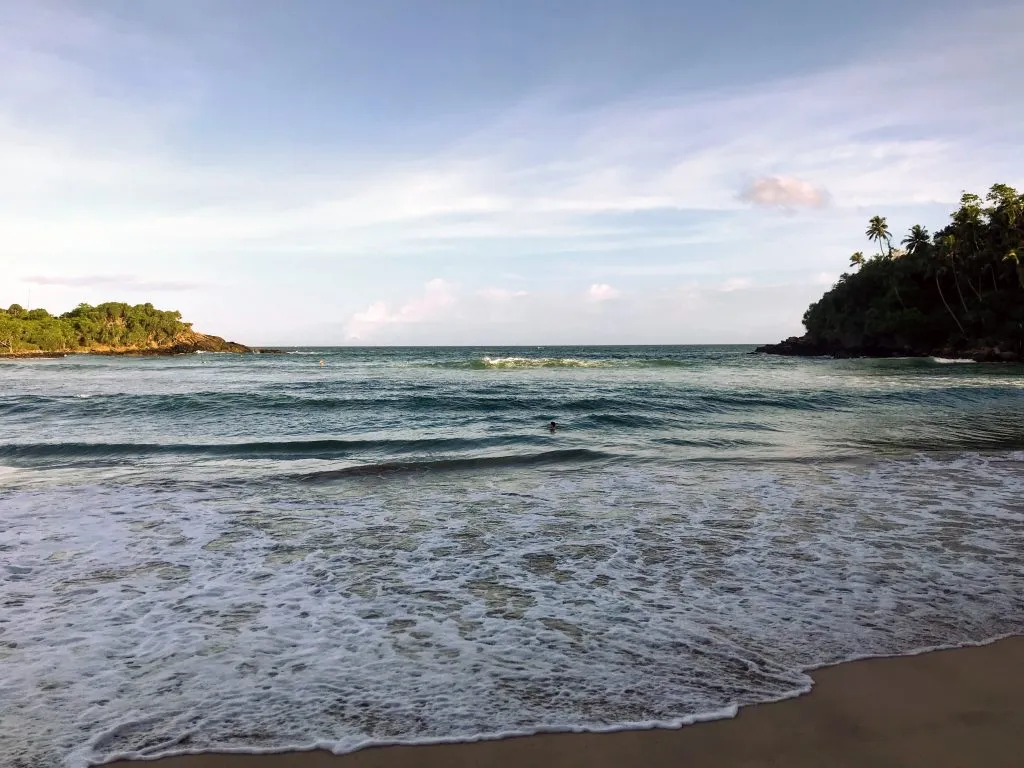 I never stayed at Dots Bay House but I would in a heartbeat if there were ever any rooms available. Dots' few guestrooms are usually booked up by in-the-know surfers. Meanwhile, the rest of the beachgoers in Hiri rely on Dots for lunch, cold beers, delicious dinners, and chill vibes. Dots is the place to see and be seen if you're at Hiriketiya Beach and it's fabulously casual. Hiri beach—and, by extension, this guesthouse/restaurant—is one of my happy places on this earth.
Riff Hikkaduwa, Southern Province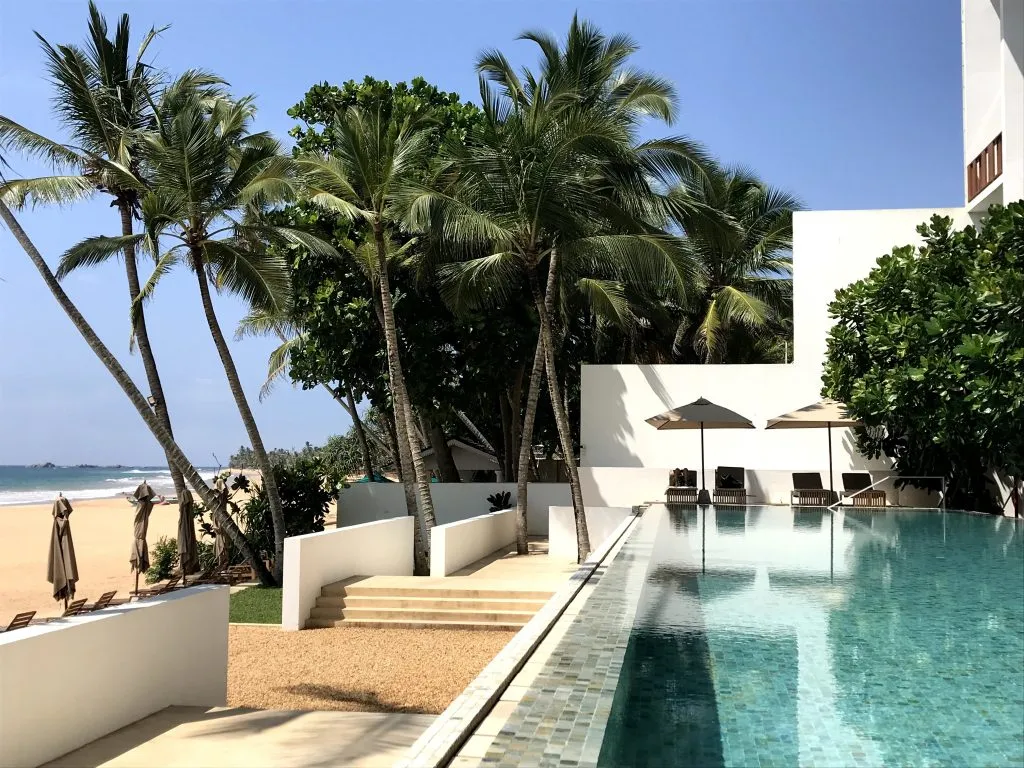 Hikkaduwa is not my favorite beach—the water can be a bit rough. But Hikkaduwa the town is popular because of its wide stretch of beach and concentration of hotels, restaurants, and other services (i.e., you're not completely marooned in the middle of nowhere). Riff Hikkaduwa combines pared-down, tropical chic design with expansive views of the Laccadive Sea and has a fantastic pool, quality food, and Instagrammable interiors.
Another tip for Hikkaduwa: I've also heard great things about Taru Villas.
Amba Estate, Bandarawela (Near Ella), Uva Province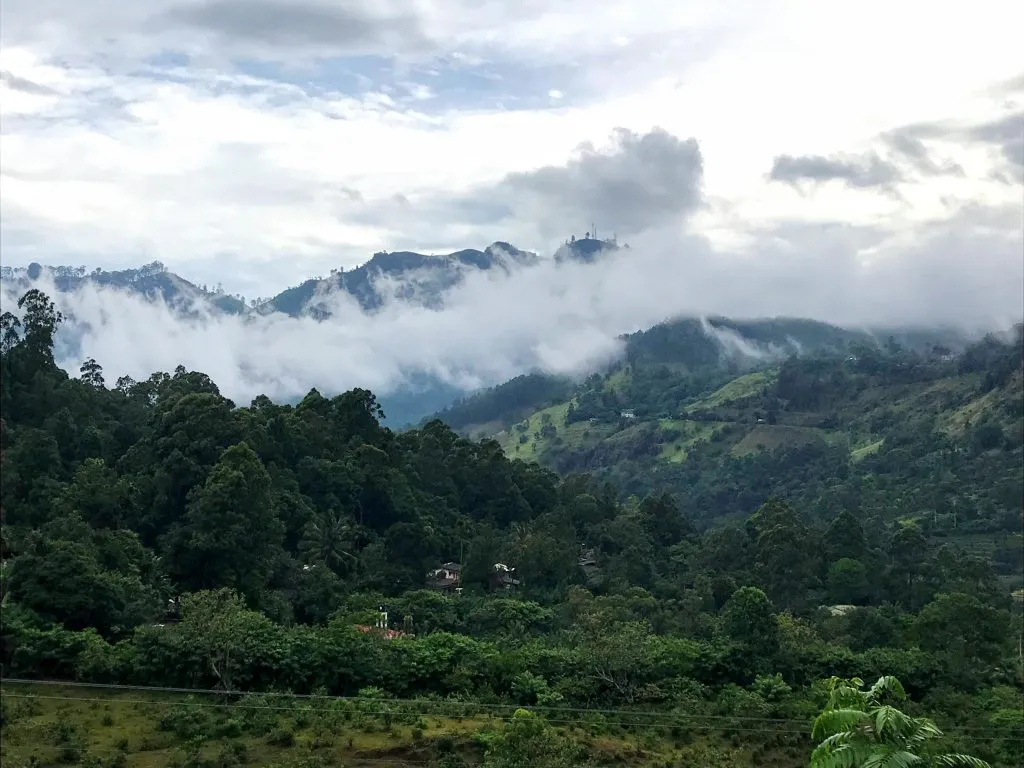 It takes quite a bit of effort to get to Amba Estate, an organic, sustainable tea plantation in the hills above Ella. But it really does provide the kind of off-grid escape that many dream about. There are a couple of cottages on the estate that are suitable for families and there are also some single rooms in the main house near the guest shop. Since Amba is located on a dirt road near the top of a mountain you may find yourself staying put, exploring the tea fields, reading, playing with the owner's pets, and watching the clouds roll in and out over the valley below.
The Grand Hotel, Nuwara Eliya, Central Province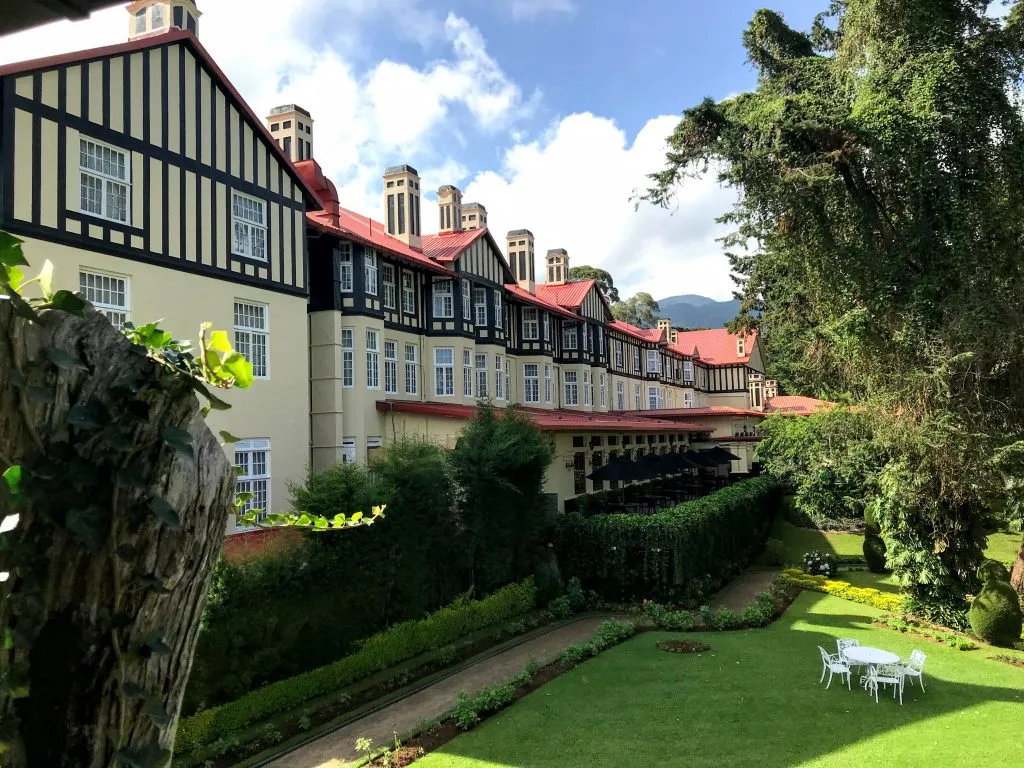 The hill country city of Nuwara Eliya sits at an altitude of 6,128 feet (1,868 meters), giving it the perfect climate for growing tea and other upcountry vegetables (e.g., leeks). The area was a favorite of the British, who dubbed it "Little Scotland" and built grand agricultural estates here.
One of the remnants of this era is The Grand Hotel, considered the grandfather of hospitality in these parts. Like the Galle Face Hotel (see above), The Grand Hotel looks the part with a mock Tudor facade and loamy green grounds complete with lawn sculptures. The inside is all creaky wood, vast sitting and dining rooms, and what seems like faint whispers from a time gone by. There's even an indoor pool and a billiard room with a pro-billiard player on staff to guide your games if you so choose.
Bring a jacket. It can get quite chilly in the evening.
Jetwing Vil Uyana, Sigiriya, Central Province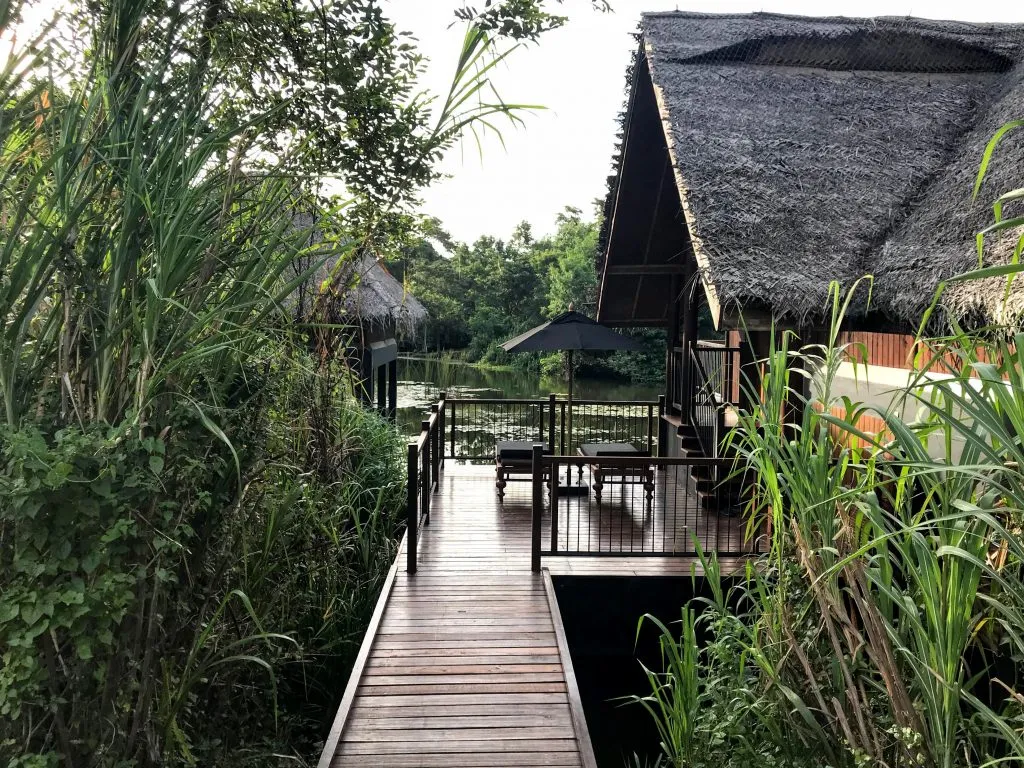 Of the few Jetwing properties we stayed in Sri Lanka, Vil Uyana in Sigiriya was my favorite. Its eco-lodges, which blend in with the wilderness of the Sri Lankan interior, were pleasing to the eye while also being very functional and comfortable. Most (all?) of the lodges had mini pools outside the front door, which was a cool feature.
Vil Uyana also had exceptionally delicious food. We chose the half-board option and enjoyed multi-course meals for breakfast and dinner.
The best part of staying at Vil Uyana was the guided nighttime wilderness walk around the property. I've been meaning to develop my notes about it into an extensive blog post. Let's just say that the experience felt like a safari mixed with The Blair Witch Project. It was incredibly eerie but exciting!
By the way, another absolutely beautiful resort in Sigiriya is the Water Garden. I knew many friends who stayed here and raved about the place, but I didn't have a chance to visit.
Uga Bay Resort, Pasikuda, Eastern Province
One of the most beautiful strands in eastern Sri Lanka is Pasikuda Beach, a town with multiple resort hotels. We stayed at Uga Bay Resort, which offered all-inclusive meal options, sea view rooms, and a concierge that helped you book all sorts of local excursions like snorkeling and banana boat rides.
We were at Uga in April—during Sri Lankan New Year—so the hotel was all booked up. A great family resort, Uga provided fun holiday activities, like rice sack races on the beach, for kids and adults.
Another side note—the sun is incredibly hot in Sri Lanka in April. So we did most of our excursions in the morning or the late afternoon. Morning swims at Pasikuda Beach felt like dipping into a warm, still bath. Heaven.
Jetwing Surf, Arugam Bay/Pottuvil, Eastern Province
I'm going to be honest here. I didn't particularly like Arugam Bay compared to other Sri Lankan beaches. It's known as a favorite beach for surfers since the waves can be pretty big and rough. But that's not my favorite kind of water. Plus, we visited between pandemic waves—and before the country re-opened to international travelers—so the town's notorious surf culture was absent.
I also didn't fall in love with Jetwing Surf, but it had its charms. Here was yet another Jetwing eco-hotel (see above), but Jetwing Surf really tried to espouse the eco concept. The spacious thatched-roof huts were equipped only with fans to beat the heat. We melted the first night but got used to the warm air—and being out of our comfort zone—pretty quickly. One thing I really did like at Jetwing Surf was the bathroom, totally private but half open-air. There's nothing like taking a warm shower under the sky.
The Jetwing Surf is not for everyone. If you read the reviews, the split between love and hate is about 50/50. But there was something intriguing about that feeling of being on the edge of the world, among the elements, but still being able to get wifi or a gin and tonic if you wanted.
Blue Water Hotel, Wadduwa, Southern Province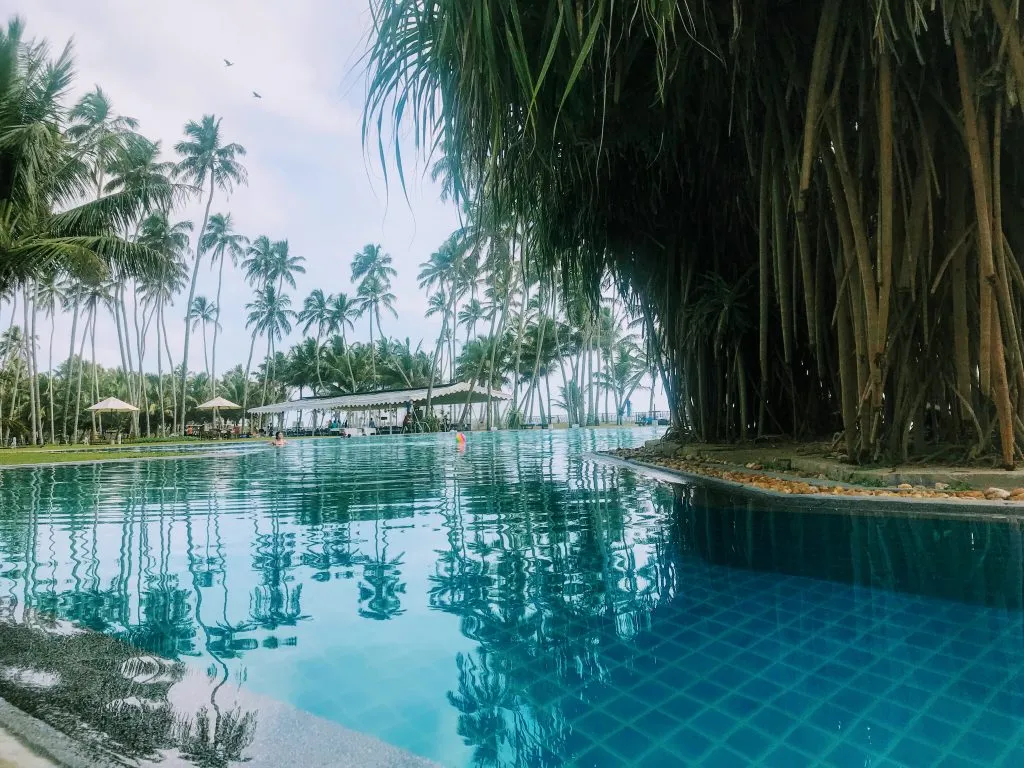 One of the few hotels designed by legendary Sri Lankan architect Geoffrey Bawa, the Blue Water Hotel and Spa is a standout property in Wadduwa, south of Colombo. We never actually stayed at Blue Water. But it was close enough for a day trip from Colombo. We went on a Sunday morning and was able to get a day pass good for swimming—in the largest pool I have ever seen—and the brunch buffet. Call ahead if you want to do that. Or book yourself a longer stay and revel in the tropical modernist details of the guestrooms and public spaces.
Not far from Blue Water and Wadduwa is the Anantara Kalutara Resort, a Bawa-designed property completed after the architect's passing. It's where I had the best massage of my life.
Weligama Bay Marriott Resort & Spa, Weligama, Southern Province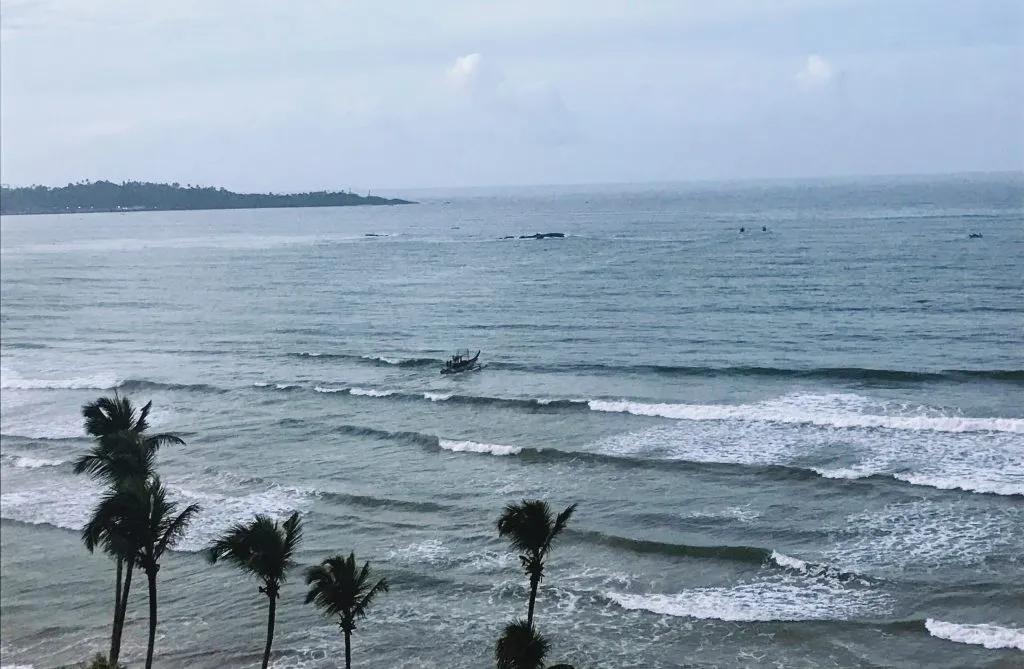 I have mixed feelings about the Marriott in Weligama. On the one hand, the building is a monstrosity viewed from the approaching road, thereby ruining the beach view for the locals. On the other hand, the interior is an oasis of calm, with a handsome lobby, well-appointed rooms, friendly service, and a spectacular pool with a slide for the kids.
Weligama is a favorite beach destination for Colombo-ites because it's one of the first beach towns you reach after getting off the highway. It's ideal for a weekend getaway from Colombo. And, if you're a Marriott Bonvoy member, you can earn points towards a stay at other Marriott properties (such as the JW Marriott in Phuket, Thailand—a fantastic resort).
Conclusion
Sri Lanka has a ton of excellent places to stay and the hospitality is top-notch. I haven't even touched on the wide variety of villas that are available on Airbnb and VRBO, but I may in a future post. Would you like even more recommendations? Get in touch!
By the way, If you want a book to read before or during your travels in Sri Lanka, I highly recommend the travelogue Upon a Sleepless Isle written by Sri Lankan native and cricket chronicler Andrew Fidel Fernando.
Last updated on 25 April 2023 10:54 am