Rule Britannia: My Article for Saveur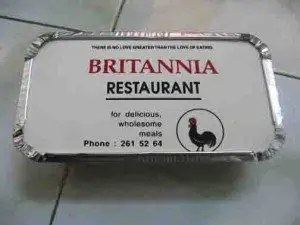 A few years ago, I had the pleasure of writing a FOB (front of the book) "feature" on the legendary Parsi eatery Britannia & Co. for Saveur magazine. At the time, I was living in Bombay, India, and had frequented Britannia enough to know that it deserved to be written about – if not by me, then by someone. Well, lucky for me, Saveur agreed.
And actually, this is kind of a meta moment, because I practically started this very blog when I moved there.
At any rate, I wrote the piece. It was published. Yadda yadda yadda…I didn't really think too much about the piece again, though I did keep a PDF of the tearsheets. Fast forward to a few months ago, when I "overheard" @wildjunket on Twitter talking about Britannia's chicken berry pulao – Britannia's signature dish. I replied to Nellie saying that I once wrote a piece about the place and she said, "Uncle just showed me the article!" I was floored.
Well, that prompted me to do some more digging, to see if other people had commented on Britannia & Co. and/or my article. Lo and behold, Mumbaikar Aarti Badamikar of the blog Aarti & Design wrote her own review of Britannia, which included an entire verbatim excerpt of my article. Normally I wouldn't take a shine to such things, but I was happy to find a Bombay-ite had liked my article enough to reprint it. And, well, I am using one of Aarti's photos from Britannia in exchange. Okay, Aarti? 🙂
So, without further ado, here is a reprint of my Saveur article. Hope you enjoy it and hope it inspires you to travel to Mumbai to sample all of its wonderful culture and food.
Rule Britannia! Iran Meets India in the heart of Mumbai
by Melanie Mize Renzulli
Saveur June/July 2006

Office workers enter Mumbai's Britannia and Co. in packs as if they were tigers converging on a fresh kill. Plates of food arrive in heaps within "ten minutes"- a span of time that is both part of a mission statement and a feat of efficiency matched only by the efforts of the city's roadside snack vendors. One of a dying breed of eateries called Irani cafes- for the homeland from which the Zoroastrians of India fled- Britannia has been a fixture in Mumbai's Ballard Estate district since 1923, when, after signing a 99 year old lease, Rashid Kohinoor opened his doors to British officers who were stationed in what was then called Bombay.
It is doubtful that the décor has changed much since. Open only for lunch, Britannia is lit mostly by the tree-filtered afternoon sun and cooled by a battalion of fans mounted high above the customers, who sit in imported Polish chairs and dine at tables swathed in red-checkered cloths. Kohinoor's son and the current Boman, is the place's most prominent fixture, usually stationed near the entrance manning the diner's hulking, old cash counter or eating with his brother or son at one of the back tables.
The junior Kohinoor admits that, in colonial times, Britannia served "bland food" in order to appeal to unadventurous taste buds. During World War II, the Brits even occupied the restaurant, turning it into a military headquarters before returning it to the elder Kohinoor's brother in 1947. When the Kohinoor family decided to return to Iran in 1970s, they sublet the space to another restaurateur, but they came back to India after the fall of Shah in 1979. They reopened the establishment in 1982, and since then the Britannia menu has been a showcase of such Parsi fare as dhansak, a mutton and dal stew; sali boti (mutton) or sali chicken cooked in sweet gravy and topped with crisp sticks of potatoes; and the beloved berry pulav, Britannia's signature dish. Introduced to the restaurant by Boman Kohinoor's late wife, Bachan (Boman and Bachan's son Romin now mans the stove), after they returned from Iran, it is an adaptation of the Persian zereshk polow; her version consists of rice pilaf piled on saucy stewed chicken, mutton or vegetables and garnished with fried cashews, crisp onions and zereshk, a dried currantlike berry, which the Kohinoor's still import from Iran. The exact recipe for the pulav remains a highly guarded family secret.
Britannia's slogan, printed on all the menus and napkins, is THERE IS NO LOVE GREATER THAN THE LOVE OF EATING. One can only hope that when the restaurant's lease expires in 2022, the next generations of Kohinoors will keep that in mind and continue to give Mumbai a taste of Parsi goodness.
Download the PDF: Rule Britannia! Iran Meets India in the heart of Mumbai
Photo © Aarti Badamikar