Exercise Pants with Pockets: The Best Pants for Dog Treats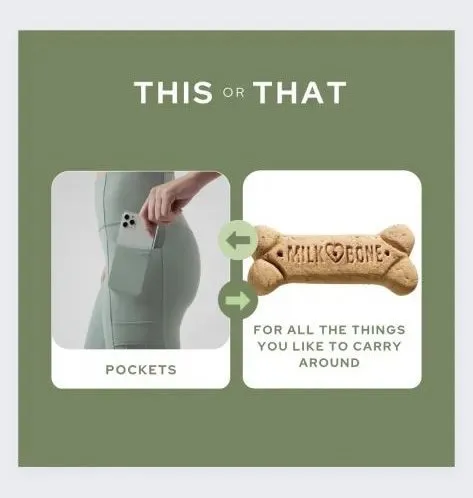 Pockets: For all the things you like to carry around, such as Milkbone dog treats.
Do we even know what's in Milkbones? No! Of course we don't. Because we are lazy and figure..,why fight it? It can't be that bad!
My dog was 2 months free from eating paint on the streets of Colombo. I love my Sri Lankan street dog. But she is quite insane. She's jealous and protective. And she's fierce and still sparkles with wild tendencies. I love her Basenji-like howl. She's wild yet spoiled and pampered. I respect the heck out of her.
Anyhow, I digress. I love wearing exercise pants with pockets. They fit the things I need to carry. My phone and a long-lasting, non-crumble dog treat you can carry around for a while—those are the things I need to carry. Maybe also chapstick and keys.
These athleta pants have ample pockets. I wear them to yoga, but also to everyday things like running errands and walking the dog (wearing my new headlamp beanie) and sleeping and never feeling like you need to change because the fabric is thick and binding yet breathable.
I'm wearing a different pair of Athleta pants now but they have lasted for years and still keep their elasticity. It feels slimming, though I don't know if it is. I don't care. They feel good and I like to feel good.
Did you know that Maryland recently voted in favor of recreational marijuana? It takes effect in July 2023.
Credits
Designed on Canva. Sadly Canva has crashed in this image but it rarely ever crashes. I use it all the time and I've paid for a subscription for myself for two years already. It's one of my few must-have tools. Canva and Thirsty Affiliate Links are probably my top two premium software/plug-in.
Dog treat: Milkbone. I like to buy the box with a dog that looks like my dog. I'm such a marketing pushover sometimes. Put out a lipstick set or nail polish collection named after favorite places on the map. Italy, Brazil. I always liked how Revlon's Toast of New York recalls a certain New York era that seems to have been lost. That's fine. Now will also be a fine moment far into the future when things are bound to get worse. But anyhoo! Milkbone dog biscuits and nail polish and lip stick.
Dog: Rosie, my crazy Sri Lankan street dog. I love her. She can be very lovable with me.
Designed and conceived completely on my iPhone 11 (sadly still, yes). I wish I could catch up. The iPhone 14 is the latest. I'm three seasons behind already. I guess I'm still lucky enough. Technology! It is the cause of and solution to all of life's problems!
I did this all on my iPhone using the WordPress app and the WordPress dashboard so I could use the Thirsty Affilates app to beautify those long ugly affiliate links that are a mile long and off-putting if you hover the mouse. I have come to appreciate the Thirsty Affiliates service also because I can enter automatic keywords on the backend that will always link to a link phrase I've told it to search and link to. This was a necessity because I could not for the love of god find the option to link within a bulleted list in the app. Design Flaw? I couldn't figure it out. Anyhow, I used the TA premium linking plug-in because it just helps me earn a bit more money. Check out my affiliate link disclosure here.
Thanks for reading until the end.
Whew! I covered a lot.