What It's Like to Adopt a Sri Lankan Street Dog
This is Rosie. Rosie is a Sri Lankan street dog that my family adopted in Colombo in September 2018. Rosie is a fairly happy dog and she has good and bad moments — just like any other dog.
It has been a challenge bringing Rosie and her street doggedness into our home. So I thought it would be worth writing about her journey (or what we know of her journey), street dogs in general, and how Sri Lankans relate to dogs.
Street Dogs Everywhere
One time, as we were driving on rural roads to Udawalawe National Park, my sons and I decided to play a game. We would name the street dogs that we saw on the side of the road with the first name that popped into our head.
Sam. Sandy, That one looks like a Chuck. Boomer. Rowdy.
It was a fun but challenging distraction as so many dogs looked like a Rocco or a Ginger. Sri Lankan street dogs mostly look the same: medium-sized to scrawny; pointy snout; long tail; short hair; colored brown, black, white, or a combo.
On the way back from Udawalawe, I decided to count the number of street dogs instead of naming them. Within 10 minutes, I had counted 40 dogs. Most were lounging by the side of the road, unbothered by nearby traffic, while the others were trotting along the shoulder, in search of food or trouble or both.
A Problem That Isn't Considered a Problem
Sri Lanka has a street dog problem. But here it isn't considered a problem.
Locals have told me that this is because Sri Lanka is a majority Buddhist country and Buddhists have a live-and-let-live philosophy towards its wildlife, including semi-domesticated street dogs. I appreciate this humane approach, but it is pretty disconcerting to see so many stray dogs in an urban environment.
In Colombo, street dogs hang around Colpetty Market, occasionally walk the sidewalks of Galle Road, and scavenge through the rubble near around the big dig projects near Fort. Some dogs hang out on medians or take up residence on side streets. It seems like every neighborhood has at least one street dog mascot, if not many more, guarding the territory.
But while street dogs are considered part of the ecosystem of Sri Lanka, they are also responsible for 90% of the rabies cases in this country. In 2015, there were approximately 2.5 million dogs in Sri Lanka. The human population in Sri Lanka in 2015 was 20.97 million, which means approximately one dog for every eight people. That can't be healthy.
Embark: Sri Lanka's Dog Adoption Organization
Since I adopted Rosie, I have learned about several dog adoption organizations in Sri Lanka. But the most high-profile one is Embark.
Colombo entrepreneur Otara Gunewardene, famous for having established Sri Lanka's ODEL department store, founded Embark in 2007. Embark was first conceived as a clothing store, from which some proceeds would go towards canine care, including rabies vaccines, injured street dog TLC, and funding puppy adoptions. In 2014, Gunewardene sold her interests in ODEL to concentrate on Embark.
Today, there are Embark stores throughout Colombo, including at the airport, as well in other parts of the country. Embark, the store, has evolved into a place to buy t-shirts printed with dog-friendly phrases, dog beds, dog toys, and so many other dog-related things.
Meanwhile, Embark, the organization, continues to hold monthly (sometimes weekly) adoption events. If you adopt a dog from Embark, the vaccinations, sterilizations, and follow-up shots are free at the Embark clinic.
Embark is truly an impressive model of using consumerism to fund a worthwhile cause. And I feel like the concept could be replicated worldwide.
Our Embark Experience
We adopted Rosie at one of Embark's puppy adoption events in September 2018. These events are held at various places around Colombo, such as Good Market (near Racecourse), Caramel Pumpkin, and at suburban malls.
Puppies — and nearly all the adoption event dogs are puppies — are corralled into several fenced-in areas so potential adopters can pick them up and pet them. Rosie was the second dog I picked up — "You can't just settle on the first dog you pick!" — and she sat calmly in my arms long enough that I knew I couldn't put her back down. I was completely manipulated by this seemingly calm, sweet dog.
After we decided to take Rosie home, we proceeded to a table where a vet checked Rosie for ticks and gave us a pamphlet with information on vaccination and worm medication schedules. Then volunteers took a family photo of us in front of an Embark sign for use in their social campaigns.
Over the following months, Rosie's personality came out. She ran all over the place, chewed up things she wasn't supposed to, and did typical puppy stuff. She still has hoarding issues and doesn't like to be disturbed while she is sleeping, perhaps traits leftover from her street days. But in general she has been a good dog — loving (when she wants to be), playful (always), and mischievous (often).
Being a Dog Owner in Sri Lanka
It is weird being a dog owner in Sri Lanka. Sri Lanka is both pro-dog and anti-dog at the same time. It's maddening.
On the one hand, people are used to dogs being everywhere. On the other hand, if you are out for a walk with your dog, people sometimes cross to the other side of the road to avoid coming in contact with you.
I think this has to do with the perception that people who own dogs must have them as protection. And, it seems like a valid way of thinking when you see other dogs out for a walk: alert German shepherds, strangely aloof Labrador Retrievers, agitated Boxers. Rosie is scared of some of them and curious about other ones.
Dog walking in Sri Lanka is not an act of community camaraderie. There are no dog parks for pooches to run around in (unless, of course, you are a stray dog and have the run of the parks). I live close to a long and well-paved walking path but there are signs all around that say "no pets allowed."
It's also not very easy to find variety in terms of dog food or other pet supplies. This is one reason Embark has been successful. They made the market and they perpetuate that market by converting more people into dog owners.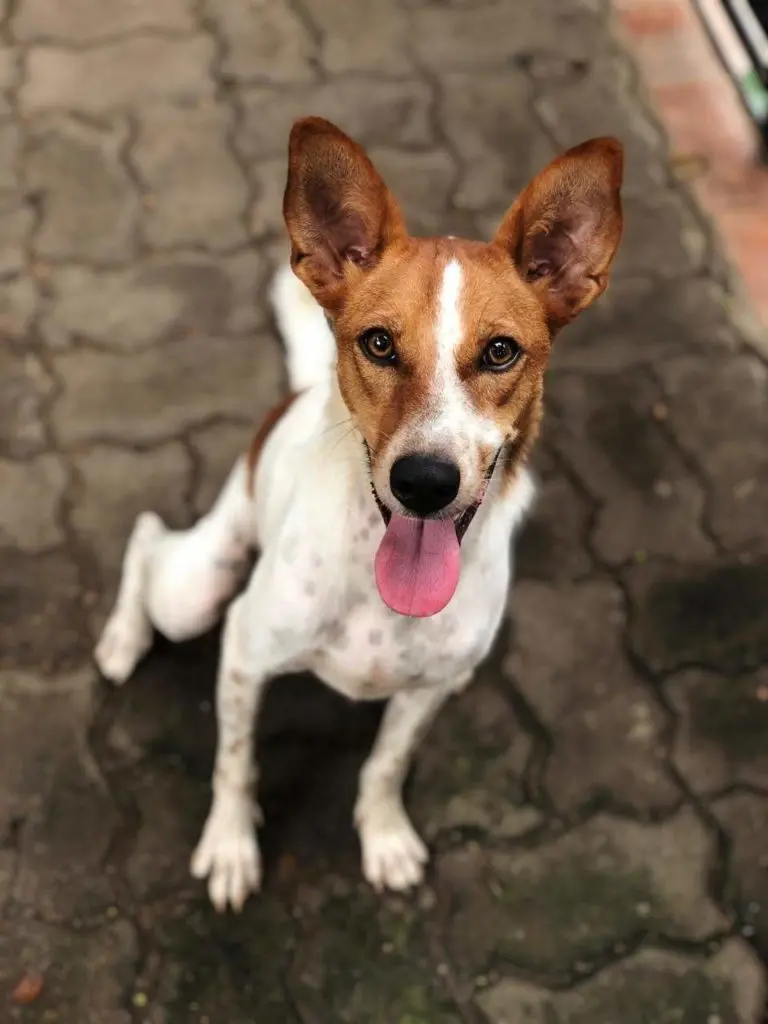 Conclusion
I have learned a lot about dogs, dog behavior, and Sri Lankan attitudes towards dogs since adopting Rosie. Dog ownership is rewarding but challenging and Rosie can be such a fun dog.
Would I recommend adopting a Sri Lankan street dog to others? Yes, but with hesitation.
Dogs like Rosie come from a long line of free-ranging dogs. Dogs from South Asia, sometimes known as Sinhala Hounds or Pariah Dogs, are likely related to dingoes and have their own wild temperament. While Rosie can be sweet, she can also be aggressive and territorial, making it difficult for my special needs kid to connect with her. We work on Rosie's hindbrain tendencies with a trainer. But it's not easy to change such inbred habits.
I often feel guilty that I didn't try to find and adopt a Golden Retriever, the type of laid-back dog that my son would have preferred and still prefers. He loves Rosie but is frightened by her sudden movements, be they friendly or aggro. And he longingly talks about Coco, Rosie's Golden Retriever friend that comes over for play dates. Everybody loves Goldens and it's easy to see why. Golden Retrievers have been bred to be kind, whereas with street dogs you don't know what you're going to get.
Nevertheless, I would have felt guilty had I adopted a pure bred dog when there are so many Sri Lankan street dogs in need. Rosie has become my project and — I dare say — my third kid. Raising kids is challenging but you just don't give up on them, do you?