Stanley Tucci Goes 'Searching for Italy' in London
Over the last two years, Stanley Tucci has captured the hearts and appetites of tv viewers with his CNN series "Searching for Italy." Now in its second season, the show sends the beloved Italian-American actor on a quest to eat and learn about the cuisine of all 20 of Italy's regions.
So far, Tucci has visited 11 of Italy's regions. In Season 1, he visited:
Naples and its region Campania
Rome, in the region of Lazio
Bologna, Modena, Parma, and other cities in Emilia-Romagna
Milan, Lake Como, and the alpine region of Lombardy
Florence and Tuscany
Sicily
In Season 2, Tucci went to:
Venice, its region of the Veneto, and a little slice of the region of Friuli-Venezia Giulia
Turin, its region of Piemonte, plus a visit to Valle d'Aosta
Umbria
Then, Episode 4 of Season 2 takes a detour—to London!
Hampered by lingering COVID-19 restrictions in Italy and a demanding shooting schedule, Tucci decided to film an episode dedicated to the Italian diaspora in the English capital. Tucci has lived with his wife Felicity Blunt in London for the past eight years. So this was a chance for him to show off his local favorites as well as tell the history of Italian London.
I've been following Tucci's Season 1 and Season 2 adventures on my Italy travel blog Italofile. But since London is outside of Italy, I thought it would be best to chronicle Season 02, ep 04 right here.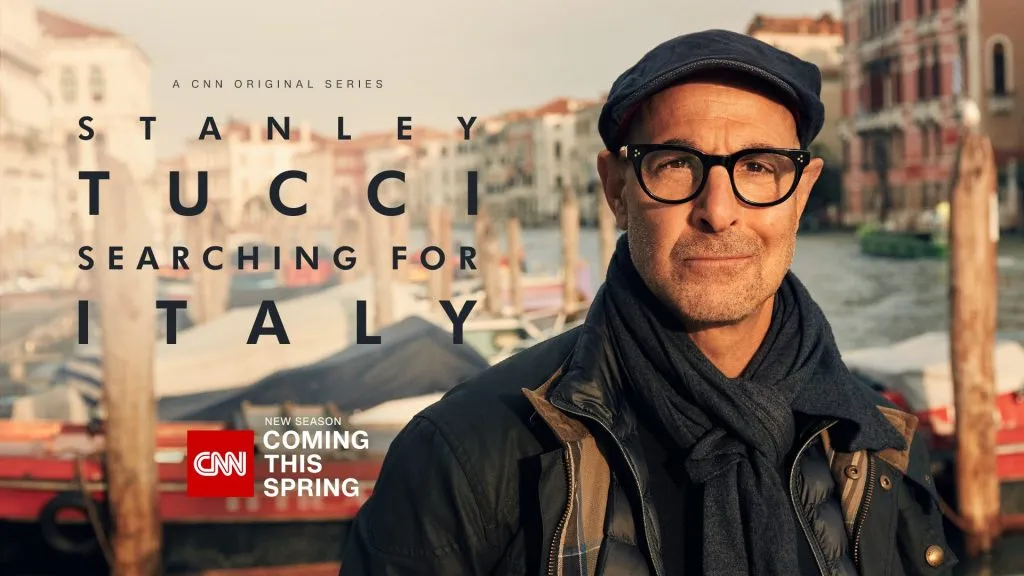 So, without further ado, here are the Italian restaurants and delis that Stanley Tucci visited on his London episode of "Searching for Italy."
Sartoria
Francesco Mazzei, the chef at Sartoria, is, like Tucci's family, originally from Calabria. His aptly named restaurant on Savile Row—"sartoria" in Italian means tailor shop—is known for its innovative pairings of traditional Italian ingredients in new ways. He serves Tucci a lunch of scallops with 'nduja and salsa verde. Mazzei has the distinction of introducing 'nduja, Calabria's delicious, spicy, and spreadable sausage, to England.
Tucci then interviews John Dickie, an affable British historian known for Delizia, his book on Italian food, and De Gustibus, his highly enjoyable and informative Italian-language food history show. "Cities are the motors" of food and drink innovation, explains Dickie. And the city of London is a perfect place for chefs like Mazzei to bring their culinary chops because here "Nessuno si guarda in faccia"—meaning non one looks at who you are but at what you can do. Dickie and Tucci dine on a dish of cod with crispy potatoes and cavolo nero, flavored with licorice and Tropea onions.
L. Terroni & Sons
Next Tucci pays a visit to L. Terroni & Sons in Clerkenwell. Opened in 1878, Terroni is London's oldest deli. You can stay here for lunch or a caffé or get provisions, such as San Daniele prosciutto, to take home with you.
Mercato Mayfair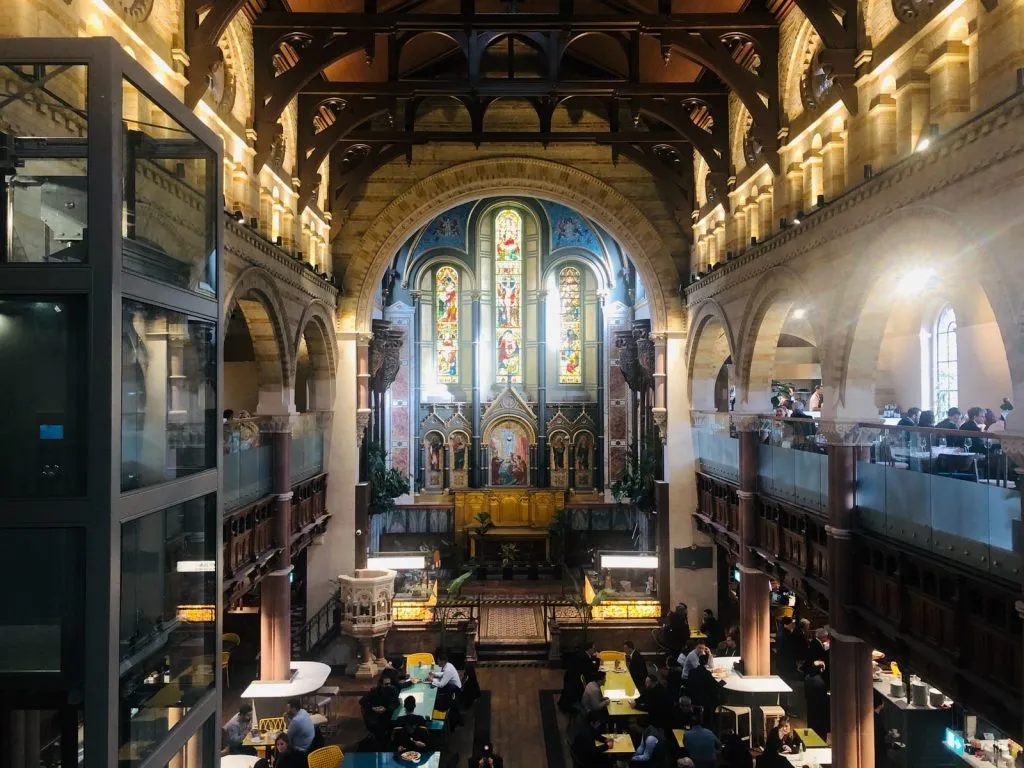 In the next segment of the episode, Tucci meets up with Gennaro Contaldo, Britain's favorite Italian TV chef. Born in Minori (a town featured in S01 Ep01 of Tucci's show), Contaldo moved to London in 1969 and began working in restaurants soon after. In addition for being known as the mentor to Jamie Oliver, Contaldo co-starred in an Italian food/travel show called Two Greedy Italians, has his own popular YouTube channel, and has written several cookbooks on Italian cuisine.
Why I'm cooking so good?

Gennaro Contaldo's catchphrase
Tucci joins Contaldo on a visit to Mercato Mayfair, a literal cathedral of food. Located in the former St. Mark's church, which was deconsecrated in 1974, Mercato Mayfair features more than a dozen eateries including Italian spots like Badiani, Fresco, and Pasta Lovers.
Between their visit to Mercato Mayfair and Stanley's home kitchen, Tucci and Contaldo try to forage for rocket (arugula) and chicory (cicoria) along London's Ancient Roman wall. Unsuccessful but undeterred, they return to Tucci's home to prepare a delicious dish of tagliolini with Amalfi lemon and London rocket.
Anolini with Angela Hartnett
Next, Tucci visits with Angela Hartnett, known for her association with Chef Gordon Ramsay and for her Michelin-starred restaurant Murano (reviews). But rather than dine at her restaurant, Tucci visits Hartnett's home and dines with her extended family. Together, they cook Anolini in Brodo, a traditional Christmas soup in Emilia-Romagna, the originating region of Hartnett's Italo-Welsh family.
You can also find Angela Hartnett cooking at Lime Wood, a 5-star hotel in the English countryside, and, in season, at Le Portetta, a luxurious ski lodge hotel located in alpine France near the Italian border (not far from where Tucci went in S02 Ep02).
La Mia Mamma
The next restaurant Tucci visits in this episode is an absolute genius concept. The brainchild of Sicilian restaurateur Peppe Corsaro, La Mia Mamma invites "mamme" from different Italian regions into the kitchen to prepare their best dishes.
Every few months, 20 real moms rotate into the lively kitchen at La Mia Mamma and stay for approximately four to five months. It's a great way to keep the menu updated and to give an outlet to some hardworking Italian moms, many of whom have children who have relocated to London for school or work.
I. Camisa & Son
When the Camisa brothers Ennio and Isidoro first opened their Italian grocery in Soho 1929, "no British person would have [ventured to try such] 'low class food,'" explains Tucci. He briefly visits I Camisa & Son (reviews), the food store opened by Isidoro and his son in 1961 at 61 Compton Street.
Quo Vadis
Having touched on a bit of the history of Italian food in London and its perception among Londoners in the early days, Tucci visits Quo Vadis (reviews), an old school restaurant and member club that once pretended to be French. You see, explains current chef Jeremy Lee, at the time that Italian immigrant Peppino Leoni opened Quo Vadis in 1926, French food was considered the height of refined cuisine. So Leoni decided to glamourize Italian menu items by giving them French names (e.g., Parma ham was called jambon de Parme).
La Latteria
Finally, Tucci travels to Acton, the "mozzarella capital of London." Here he chats with Simona di Vietri, the entrepreneur behind La Latteria, a small factory that makes Italian dairy products using British milk. La Latteria supplies mozzarella, burrata, ricotta, and other delicious cheeses to high end restaurants throughout London and the UK.
Italian Food and History Tours in London
Here are a few tours that explore Italian food and heritage in London:
Learn more about Italian London