6 things you must do in Istanbul
As you may know, Istanbul is the Europe Capital of Culture for 2010. Istanbul has been prepping for this year for quite some time, readying the city for an influx of new tourists to sights like the Blue Mosque, Hagia Sophia, and the Grand Bazaar.
While I'm not heading back to Istanbul any time soon (unfortunately), I do have this wonderful city on the brain a lot. I like to think about what I would do if I had a chance to go back for a weekend and about all the enjoyable things I did there when I used to visit from Ankara. So I've come up with a top six list of things that I think others should do when visiting this Capital of Culture. This is not straight from any guidebook; it's a highly subjective list of things that transport me back to this magical metropolis on the Bosphorus. But first-time travelers take note: several of my suggestions are in Sultanahmet, the district close to most of the city's big attractions.
Wake Up to the Ezan (Call to Prayer)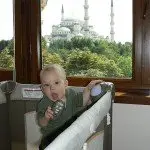 Waking up to morning prayer in Istanbul is easily done, as there are mosques all over the city, each with their own muezzin and loud speaker. Some non-Muslim travelers may find the constant call to prayer annoying and even discombobulating when it comes in the middle of a nice snooze. It also may come as a surprise to some travelers to hear the ezan in Turkey, a supposedly secular country. But this is one of those things that makes Turkey Turkey and especially provides the proper mood to a visit to Istanbul.
I highly recommend waking to the Blue Mosque (Sultanahmet Camii) call to prayer. This is the main mosque in Istanbul and has a muezzin with a mesmerizing voice. This photo, by the way, was taken from the penthouse of the Alzer Hotel, located directly across the Hippodrome from the Blue Mosque. I was fortunate enough to stay in this room only once (unexpected upgrade!) and its view was incredible, as you can see. It also has a great rooftop breakfast, by the way. But dozens of other hotels in the vicinity will put you within earshot of the Blue Mosque.
To learn more about the call to prayer, check out this great guide from Turkey Travel Planner.
Eat at Sultanahmet Köfteçisi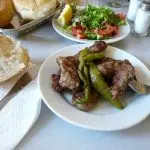 So you think you don't like broiled lamb meatballs? I didn't think I did either until I went to the original Sultanahmet Köfteçisi in Istanbul. Even though it's only a few paces from tourist central, this 90-year-old establishment still has a local feel. There's a nice, brisk, lunch counter feel to this branch, too. Maybe that's because there's no menu. You can order köfte, which comes with a side of grilled peppers (sometimes very spicy!) and, for an appetizer, there's the mixed green salad or the traditional white bean salad with onions topped with olive oil and lemon juice. Pretty simple. Pretty delicious. If you do any more traveling around Turkey, you'll inevitably see the chain restaurant of the same name. But know that this is the original and best. I dream about these little treats, and I don't even really like meat all that much.
Spend Time Around the Galata Bridge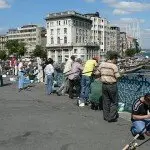 Before going to Turkey, I had no idea how crazy the country was about fish and fishing. The more I thought about it, though, it made sense: Turkey is bordered on three sides by two seas – the Black Sea and the Mediterranean (known in Turkish as Akdeniz, the White Sea). The angling craze especially makes sense in Istanbul, which is practically an seafaring city bobbing around in the Bosphorus Strait. To go almost anywhere in Istanbul, you need to take a ferry or cross a bridge. And a great bridge to spend time on is the Galata Bridge, which connects the Eminönü and Beyo?lu (Galata) districts across a narrow waterway known as the Golden Horn (Haliç). Legend has it that the Golden Horn is where all the Constantinopolites dumped their gold and valuable possessions in the 15th century when it was clear that they were going to be conquered by invading Ottomans (the army of Mehmed II, to be precise). I can't help but think that all the fishermen that line both sides of the Galata Bridge will one day pull up a dazzling diamond encrusted necklace or glass slipper from the deep waters below. So it's fun to watch them.
It's also fun to watch the anglers because they actually do catch fish. Rarely is it anything very big. Usually just istravit (a small mackerel). But there's always such a happy, familial vibe among the fishermen. Another great thing about the Galata Bridge is you can find street vendors on either end of it (and restaurants underneath it) selling delectable fried fish sandwiches. As with the Sultanahmet köfte, a trip to Istanbul isn't the same without it. So bring your appetite.
Stroll Up and Down Istiklal Caddesi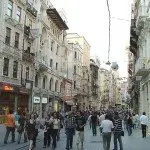 The labyrinth of the Grand Bazaar is tempting and definitely worth visiting on your first or fifteenth time to Istanbul. But I prefer hanging with the Istanbulites on Istiklal Caddesi. This long, mostly pedestrian street has the cool cafes, quick bite delis, gorgeous boutiques, chain stores, coffee houses, raki houses, and flower stalls and it's also the area you'll find most of the European embassies and Istanbul's hidden churches (check out the utterly lovely Armenian Church (on a narrow side street off of Istiklal – near some yummy fish restaurants) and the San Antonio di Padova Church). There's always something going on on Istiklal, ranging from a political rally that has spilled over from nearby Taksim Square or just street troubadors playing music. Walk down Istiklal and you'll feel like you're part of the very vibrant city that is modern Istanbul. And, yes – there are good eats and great shopping in these parts.
Hang Out by the Bosphorus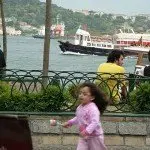 I love watching the locals on the Galata Bridge but I really love hanging with the locals in the shadow of the Bosphorus Bridge, that mammoth feat of engineering that connects Europe to Asia. There are several spots to get down close to the Bosphorus for good views of the bridge as well as the giant cargo ships, cruise ships, and tourist ferries that come and go on this waterway. The most obvious of these spots is in a cute neighborhood called Ortaköy, where there are tons of tea houses. And you'll want to order up a tea (çay), too. Tea has never tasted so good as when it's delivered piping hot in a tulip-shaped glass.
Get Out of Town – Go to Prince's Island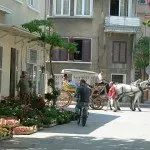 Take it from me: leaving Istanbul will make you love it more. And what better place to leave Istanbul for than Prince's Island, also known as Büyükada (Big Island)? If the pace of life of Istanbul is too much for you, then the Prince's Island – which is car-free – is the antidote. Daytrippers typically pull into port (after an exhausting, and usually hot, 45-minute ferry ride) and head straight for the horse and buggy depot, where you can purchase a quiet, horse-drawn trip around the island. It's pretty relaxing – for the humans anyway – and you get to admire some of the gorgeous Ottoman-style country houses that the island is known for. Not surprisingly, many of Istanbul's elite, including Orhan Pamuk, have houses on the island and there are even a few hotels tucked into the hillsides, most of which charge a pretty penny for a night's stay or an afternoon lunch.
I regret I've only spent one day on Prince's Island. But it certainly left me wanting more, as did Istanbul. What I'd give to be sipping in Istanbul's sea air right now.
All photos © Melanie Renzulli except for Sultanahmet Köfteçisi which is from afyonblog on Flickr and Istiklal Caddesi which is from Wikipedia.