Old and Busted vs. New Hotness and the Elephant in the Room – #sonyholiday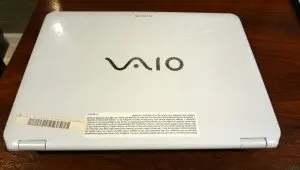 When a PR representative recently offered me the opportunity to review the new Sony VAIO S Series laptop, I was hesitant. But I realized that it would be a great opportunity to compare my previous Sony VAIO experience with my new one, as well as compare the two laptops to my relatively new MacBook Pro.
That's right. I am a new convert to Mac after years of using a PC. My last laptop before getting my beautiful, shiny, Steve Jobs-approved MacBook? You guessed it – a Sony VAIO. Full Disclosure: I'm typing this post on a MacBook. I'll be blogging from the Sony as the review series continues.
We bought a Sony VAIO in 2009 from a Best Buy. It wasn't an ideal purchase. Our workhorse Dell, which wed had since 2004 and carted to India and Turkey, was old, gigantic (by today's standards), and died within a week of returning stateside after being abroad for almost four years. We didnt really have a whole lot of time to do research on a new laptop; we just needed to buy one fast so I we could get online and I could continue blogging or whatever it was that I was doing in 2009.
The Sony VAIO was the best looking PC laptop at Best Buy that day and was priced in the middle range – around $699. I was thrilled to have a new laptop again, but the honeymoon period ended fairly quickly. Because we had bought an out-of-the-box model (previously owned for about a week before being returned to the store), we had a limited warranty on the VAIO. Right about the time that the warranty expired, the VAIO's fan began whirring loudly and my sons got hold of the laptop and ripped half of the keys off. I was typing on the laptop so much, that by the middle of 2010, the paint on the keyboard keys began to wear off. That's what you see in the photo to the left.
I had had it with PCs by the end of 2010 and coveted a Mac, not only because it was going to work seamlessly with my iPhone but because I had finally eased out of the mindset that computing on a Mac would be difficult. Sure, keyboard shortcuts would change, preferred software wouldn't be available in some cases, and software I already owned (such as an old version of Photoshop for PCs) wouldn't be compatible with my Mac. But I was ready for something different, especially since Id heard that I wouldnt have to worry about malware and viruses striking my Mac.
So, here I am, getting ready to really review the Sony VAIO S Series laptop, both in comparison with my old-and-busted Vaio and the elephant-in-the-room MacBook, but also as a laptop on its own terms. Stay tuned for more posts on the Sony VAIO S Series laptop as well as reviews about my experience using the laptop in tandem with the Sony Cyber-shot (DSC-WX9) camera and Microsoft Windows Live Sky Drive. On Twitter, Im labeling my posts with the hashtag #sonyholiday.