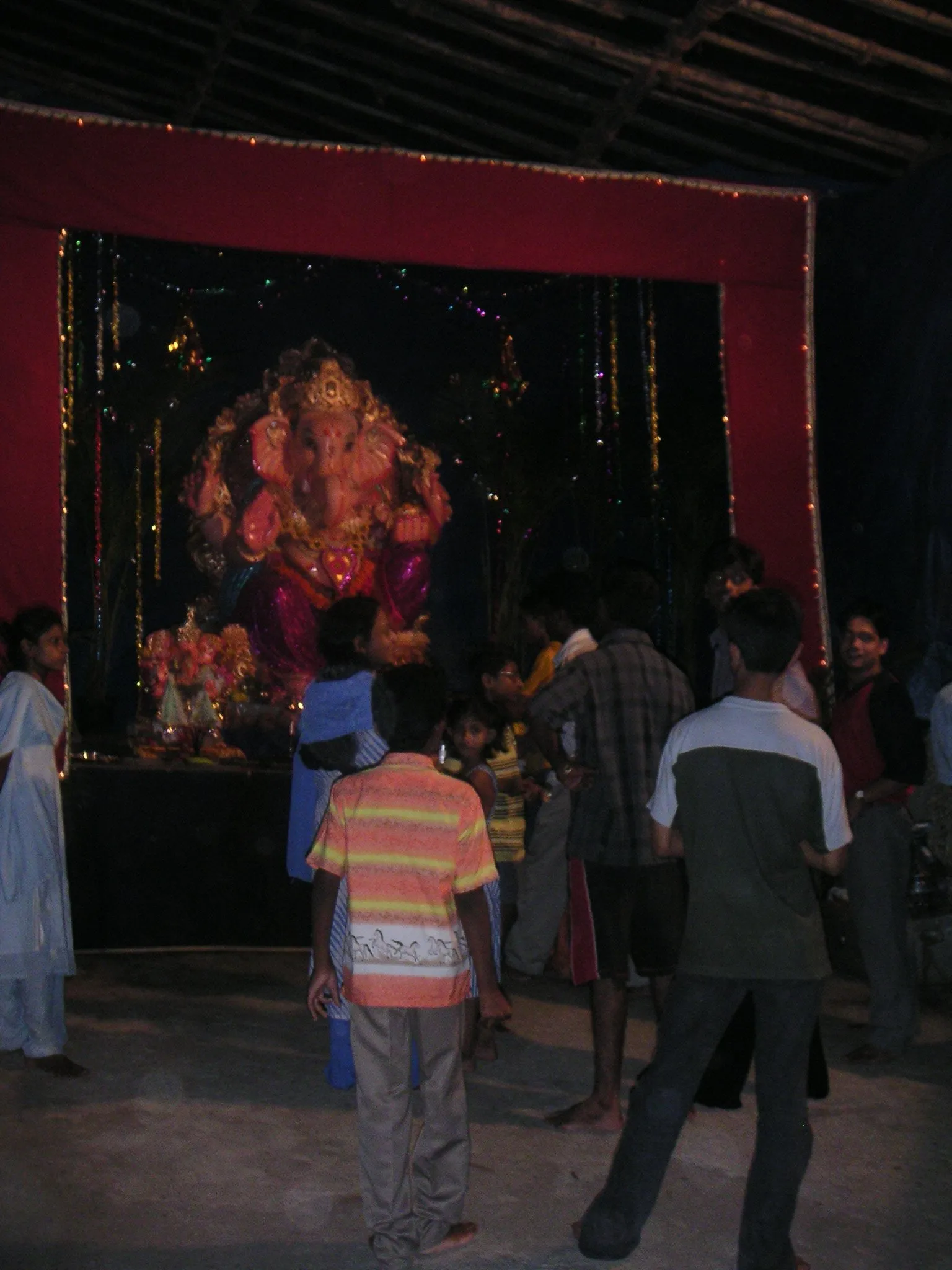 Every night of the past week has been set to a soundtrack of tablas and cymbals, with groups of men, women, and children dancing to the beat on the way to immerse Ganesha. Despite the heat and humidity, it really feels like Christmas, as there are lights strung up over roads, vendors selling holiday snacks, and a real sense of joy among kids. In fact, taking a tour of the Ganpati – the idols in the image of Ganesha – is a bit like touring Nativity scenes in December.
This year, Mumbai's Ganpati range in size from two feet to about thirty feet tall and are mostly made of clay – so they'll break apart in the sea – but some are still of plaster of paris to environmentalists' chagrin. A resident of a neighborhood in the Opera House district told me that his idol took about 10 weeks to construct, at a cost of about $2,000 (92,000 Rs.). Other idols, like the ones that people have been wheeling around on wooden carts, probably cost less than $100, but people obviously put in as much as they can afford. More than half of the people who live in Mumbai live in dire conditions making less than $1 per day, so an elaborately colorful, relatively inexpensive Ganesha statue is a real sacrifice. You can't really fault them, either, if their Ganpati are usually made of plaster of paris, a cheaper material.

Last night was probably the last chance I had to go out and see the statues in their illuminated glory. My driver, an Indian-Muslim who "believes in one god" and thinks some of the Hindu rituals are more than a bit frivolous, took me and friend around to a couple spots in town that purportedly have some of the livelier and more popular atmospheres for Ganesha viewing. We didn't get too far because traffic was crazy, thanks to sporadic processions of people dancing and carting their mini-Ganeshas down to the sea. But what we saw was a much more local view than I would have expected to get had I set out on my own.
On the face of it, statues depicting elephants are definitely cute, but they are also things of worship. So, it's rare to see a Ganpati installation on the side of the road without some sort of hot pink or orange canopy and lit walkway prefacing it. Usually, the size of the canopy is in direct relation to the size of the Ganpati, so we stopped at the biggest canopies we could find.
Two young blonde girls attract a lot of attention in Mumbai, no matter the situation or neighborhood; our sweetly protective driver was fully aware of this and accompanied us on our quest.
Stray dogs, some wily-looking young men, and scents ranging from nagchampa, musk, and sandalwood to ripe garbage, feces, and what I like to call "eau de bodega" (a combo of rat poison and detergent) tracked us as we walked down a very well-lit path. Those smells, by the way, aren't indigenous to any particular area of town, although the prevalent smell of incense was definitely thanks to the long holiday. At the end of the street, a group of about four or five women (they were 80 years old if they were a day) led a puja (worship service), while 30-odd people sat on the ground and watched.
Behind the services was a glorious, little Ganesha, about five feet tall, festooned with flowers and fruit. I felt disrespectful just being there, but the lady overseeing the idol seemed happy that I had come to see her neighborhood's Ganesha. Her one request was that I remove my shoes before approaching the idol. I also felt bad about taking a photo, but she said it was all right. After I had a quick look and inhaled my share of incense, a teenage boy (maybe the lady's son or helper) handed me two pieces of sweets called "modaks" (made, I think, of purely sugar and ghee) and two bananas. Seven days and three bananas into Ganeshotsav I have come to realize that bananas that have been hanging around incense all day taste a bit like bananas foster – there's a hint of cinnamon and nutmeg in there somehow.
Our next foray was to see one of the largest Ganpati in South Mumbai. Again, we walked down a well-lit street, this time approaching what looked like a large construction project covered with long lengths of black plastic. There were long lines to get into the Ganpati – and, I think, a small admission – but we were waived through for a short look.
A veritable multimedia installation with a moving mannequin dressed in a loincloth (not sure what that signifies), the giant, blue head of Krishna (note: that's not Liza Minelli), and a 30-foot tall Ganesha that spouted water greeted us. The stage was lit from the back, which was not so good for picture taking but was pretty good for dramatic effect. There was a whole sort of "passion play" going on, and we arrived in the middle of it, but our Hindi and our knowledge of Hinduism were so scant that it didn't much matter.
Within the same block of festivities was another Ganesha, this one situated on a giant, white horse. Funny – I've always heard the legend that Ganesha rides on the back of a rat. Of course, there are other legends that have Ganesha's powers being so great he can turn himself into a tiger. Hinduism has about 3 million gods and goddesses, and who knows how many of those are just incarnat ions of Ganesha.
We had been out of the house for about an hour and needed to get back, so we only had room for one more viewing. The final stop was near Peddar Road, where another quite large Ganesha had been set up. It was near a neighborhood of highrises and more expensive shops and housing, so the crowd there didn't take on state fair-like proportions. There were only a few dads with children and about one or two females. A little girl of about six with about three or four gold hoop earrings ran up to me and said "camere" – camera – but then seemed wary when I offered to take a picture of her.
Nevertheless, her father told me it was okay to shoot a pic of the idol, saying "Madame, this is my god. I hope you like him." I again took off my sandals, approached the idol, took a picture, and was given some sweets. These were just balls of sugar, but I ate them anyhow.
I must say I am more than excited about the ultimate visarjan (immersion) on Monday, the last day of the 10-day festival/worship. And I'm most interested in seeing the aftermath of the immersions. Apparently, the next day, different parts of Ganesha, from large, floppy ears and tusks to hands, feet, scepters, and crowns are strewn in the water and on the beach. It should make for a completely surreal sight.