A Trip to the Beach as Curfew Ends in Sri Lanka
The sights and sounds of the beach were as they had been before. At the hotel, set back in the jungle, monkeys scampered along the roof in the early morning, leaping onto palm fronds and sliding down slender, grey trunks. Peacocks meowed. Street dogs lounged on the dirt roads. From the balcony, you could see a sliver of golden sand where waves, barely audible because of the birdsong, rolled and crashed.
But the rhythm of beach life was different than it had been when we came to this same Southern Province beach three months ago, our last trip before the COVID-19 curfew began. Everything was, as they like to say in South Asia, "same same – but different."
The most notable difference was the lack of people. Domestic tourism in Sri Lanka, i.e., travel between provinces, has been permissible since the second week of June. But many travelers – rather, those who have the income and privilege to travel – have been understandably slow to dip their toes in the water, taking a cautious approach to getting back to "normal."
Then there are the hotels that are still closed, the restaurants that are shuttered, and all of the auxiliary hospitality services – tour guides, surf lessons, beach shacks – that had to shut down when the tourists stopped coming. Gone were the beach shacks that had previously rented out chairs and kept us hydrated with cold Lion beers and coconut water.
During our last trip to this secluded beach, which we took about one week prior to the coronavirus-induced shutdown, we were overwhelmed by choice.
Sun-faded surfboards and boogie boards sprouted every few meters, make-shift "surf schools" run by local boys who sat in plastic chairs in the shadow of the jacaranda and palm trees. For a couple thousand rupees (around $20-30), you could rent a board and an instructor for an hour and a half.
Some of the more enterprising schools had sophisticated cameras with zoom lenses and one of the guys took photos while you were out surfing with one of their buddies. I bought a few from my session (about $.50/photo) and they emailed me a google drive link for downloading them the previous morning.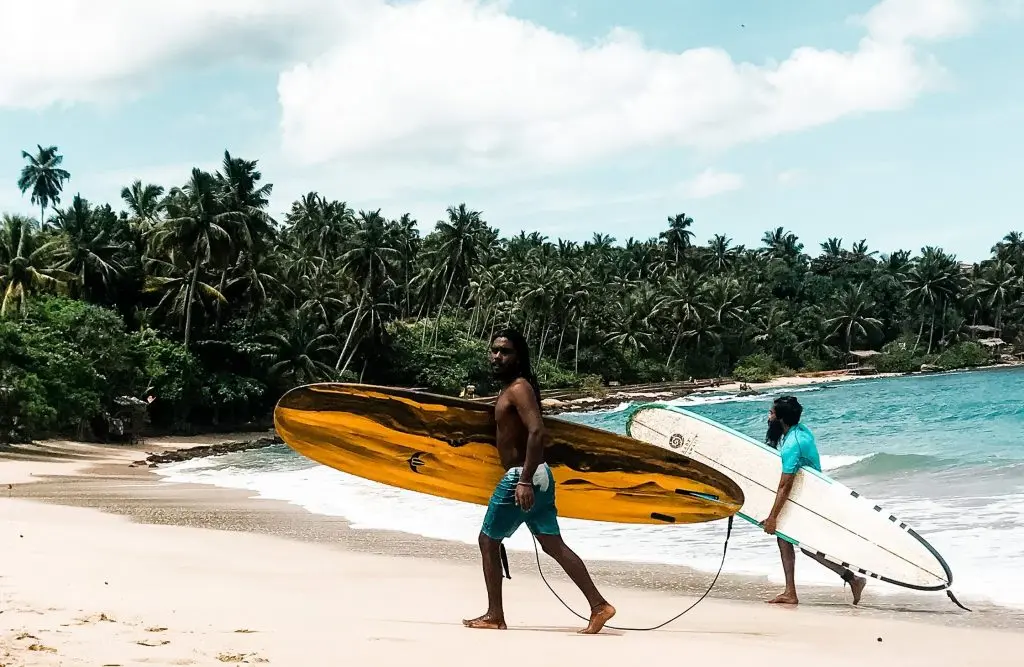 But this time, none of that was there. One restaurant within beach-walking distance was open, so we ate lunch and dinner there and also bought beers and waters from them during the time we were on the beach. My husband spoke to the owner one night at dinner and learned that he had had 60 covers the night before. As the only game in town, he was not hurting for business nor was he eager for the shacks or expat-run restaurants to re-open.
In many ways, it was the beach of dreams. The sea was empty and so was the shore. Those who had come to surf, and had brought their own surfboards, did not have to compete for waves. Swimmers did not have to dodge surfers. The crescent of sand around the bay was wide open, absent of touts and Instagrammers. The only nuisance was the docile beach dogs, who were so happy to see humans in their territory that they weren't a nuisance at all. Tourists were few, either Sri Lankans or us foreigners who lived in Sri Lanka. I like to think that we outsiders were low maintenance since we had been there during the entire quarantine, if not longer, and knew what was available, what was and wasn't possible.
It was liberating to finally get out of town for a few days, to see new surroundings. But it was also sad witnessing the immediate effects that a global pandemic has had on a tourism-dependent economy.
Sri Lanka was just starting to get back on its feet after the 2019 terrorist bombings destroyed livelihoods for many in the tourism industry. So a second year without tourism is an especially devastating blow. One hopes that the country can begin to recover its losses once international travel resumes. But as of this writing, the reopening of the Bandaranaike International Airport in Colombo has been pushed back beyond mid-August.
You can read more about post-curfew travel in Sri Lanka – the ins and outs, sights and sounds – in my twitter thread below.