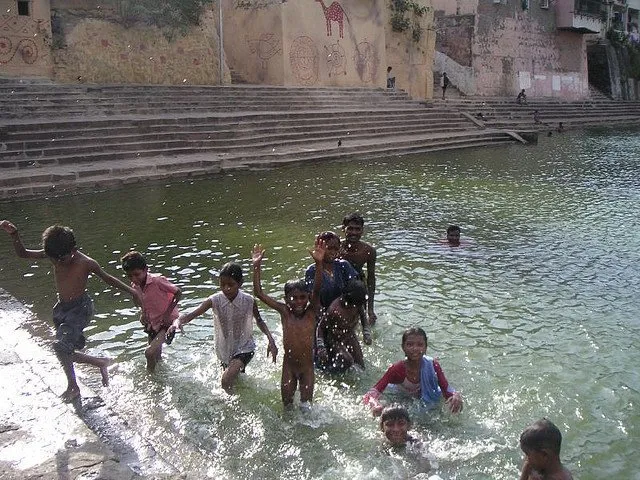 Bombay can be extremely noisy, crowded, and inhospitable at times. But, at other times, you stumble across these tranquil little neighborhoods. One such place is Walkeshwar. Adjacent to glitzy high-rise apartments and old-money bungalows, Walkeshwar is a fisherman's village on the top of tony Malabar Hill. There, the stone houses are incredibly modest, the alleys are shoulder-width, and the families are probably packed two to three to a home. But there's also this serenity that, to me, evoked a bit of dead-end lanes in Venice during medieval days. There was a meditative stillness.
The central focus of Walkeshwar is Banganga Tank, a large pool that is said to have evolved when Ram, searching for water, shot an arrow into the earth. The resulting trickle created this "tank," which is considered holy to Hindus. It is used for funereal rites and, during the sweltering Bombay days, also makes a great swimming hole for the locals.
I didn't so much stumble upon Walkeshwar/Banganga as seek it out. Anthony had visited there some months before when I was down with jaundice. And, a few friends had also told me about it. As the monsoon was quickly approaching – and another out-of-towner was looking to do some sightseeing – we went there last Saturday.